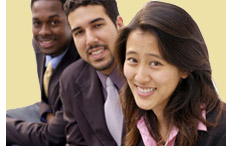 We are excited to have you join our "people recipe" team. Air Gumbo has been working diligently to create a work environment considered to be a model of cultural and professional modernity.
Like our name, we love to have a mixed multicultural and ethic workforce. We are not quite ready to hire just yet. However, for those who just can't wait to tell us about themselves, we want to give you a head start, by letting you know some the positions we will be filling soon.
All positions require employees to have an entrepreneurial spirit and to be computer savvy. We will provide job descriptions as we get closer to beginning the hiring process. If you are interested in any of the following positions, please email us a cover letter and your résumé. We will send you confirmation when we received your email.
If you are interested in a position, you must respond online via email. No phone or fax inquiries from potential applicants, external recruiters or other interested parties, please.
Email your resume to: peoplerecipe@airgumbo.com and be sure to include the word "resume" in the subject line as well as the position of your interest.
Air Gumbo is an Equal Opportunity Employer
Executive Department
Vice President
Airline-Airport Relations and Security
Executive Assistant

Finance Department

Department Assistant
Revenue Accounting
Accounts Payable
Financial Analyst
Purchasing

Flight Operations Department

Department Assistant
Director Crew Training
Director Crew Schedule
Director Stations
Director Cabin Crew
Director Customer Service Training
Lead Dispatcher
Check Airmen
Check Purser
Captains
First Officers
Cabin Pursers
Cabin Crews
Dispatchers
Crew Schedulers
Station Managers
Customer Service Representatives
Manager- Baggage, Cargo & Mail

Maintenance Department

Department Assistant
Chief Inspector
Director Safety & Regulation
Director Quality Control
Director Powerplant & Landing Gear
Director Engineering & Avionics
Director Technical Operation
Director Maintenance
Maintenance Control
Lead Line Maintenance
Line Maintenance

Marketing Department

Department Assistant
Creative Director
Director Communication
Director Publicity
Director Customer Service
Director Sales & Promotion
Product Designers
Fashion/Interior Designer
Graphic/Advertising Designers
Web Design/Animators
Sales
Manager In-flight Service

Information Department

Chief Information Officer
Department Assistant
Director Security
Director Computer Programs
Director Network Systems
Director Server Systems
Director Record Administration
Director Reservation Systems
Director People Resources
Computer programmers
Network & Server Administrators
Aircraft & Maintenance Record
Reservation Lead Agents
Reservation Agents
Office Assistants